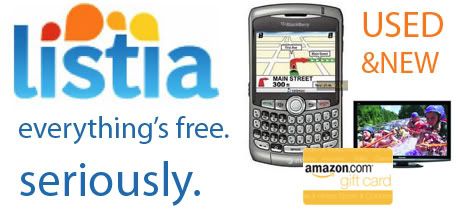 Listia
is a new and fun kind of auction site where you bid on other people's stuff using credits instead of real money. They make it easy for you to give away stuff you don't need anymore and get stuff you want in return for free. If you enjoy giving and getting items for free, then you'll love Listia!
Okay so your wondering how this all works,Basically To start,every user gets 500 free credits just for signing up and listing an item. The more popular your listing is, the more credits your auction will go for.You can then take those credits and bid for things that you want.
Lets say you have a old flashlight someone bought you last year for christmas and you really don't have a need or use for it.All you have to do is
Signup
for Listia and add your flashlight.Someone else sees your flashlight and bids up to 1000 points for it.After you sell the flashlight you may would like a new mp3 player,all you do is apply the points to the ones you have and click bid,if you win you have yourself a new mp3 player.
This is also a great site to get some free (MCR Points) My Coke Rewards or Dr. Pepper Points.Just sign up below and your account will be credited with 500 points.Then search for reward points find the codes you like and place a bid. That it if you win the auction you will get some quick points.
Click This below to sign up