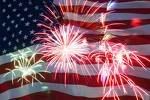 Independence Day Also The 4th of July is a federal holiday as celebrated through out the country. It is a historical day with an inherent patriotic spirit that is common to all. The history of the USA Independence Day dates back to 4th July 1776, the day when the declaration was signed between Great Britain and America that consisted about 13 colonies. On the Independence Day in the US , citizens also remember the war and the martyrs of the war who laid down their lives for the service of the nation. The American Revolution of the late 18th century resulted in the Independence of the country and also triggered to unite the separate colonies to become the United States of America.






Independence Day is celebrated as a grand day marked with several festivities that take place throughout the day and in all the states of the country. Colorful decorations in Red, White and Blue, family picnics, barbeques and also fireworks and light works are the numerous highlights of the day. People also view the day as extended holiday and plan to spend time with relatives and friends. Independence Day in the US is a federal holiday and major organizations, institutes and offices remain shut on this day. On several occasions, 4th July fell on a Saturday/ Sunday and therefore the Independence Day holiday was observed on the following Monday, offering extended vacations for all employees and citizens.



Patriotic songs play a significant role in the USA Independence Day. There are several songs that are generally associated with the day, the National Anthem, God bless America and Stars and Stripes forever are a few to name in the order. Parades and processions as well as picnics and get togethers all play an important part in the festivities of the day.



On the 4th July, Washington DC is the place to be! With colorful parades trying to capture and portray the true essence of the day, you cannot miss but get soaked in the revelry and the patriotic spirit. After all it is the Birthday of America and the citizens are ensured of being treated to a splendid time. Tradition of preparing Independence Day delicacies is also widely followed and so is the tradition of sending Independence Day cards as well as gifts. Yes! You may also celebrate the occasion by exchanging patriotic cards and gifts to make the day all the more exclusive….