'Virtual bumps' put the brakes on speeding drivers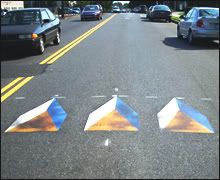 A pilot scheme in the U.S. is using 3D-images of speed bumps in a hi-tech bid to tackle speeding drivers. The 'virtual bumps', being used on the roads of Philadelphia, give the illusion of being real, reports the city's KYW radio station.

About 100 of the bumps have been installed on roads near busy intersections. Drivers believe there is an obstruction and slow down.

"The goal is to change the mindset," said Philadelphia's chief traffic engineer Charles Denny. "The goal is to get the drivers to be less aggressive. We want them to go at what the speed limit is."

The authorities are now collecting data to see how effective the measure is.