A half moon shines over the entrance to the new Svalbard Global Seed Vault in a recent photo.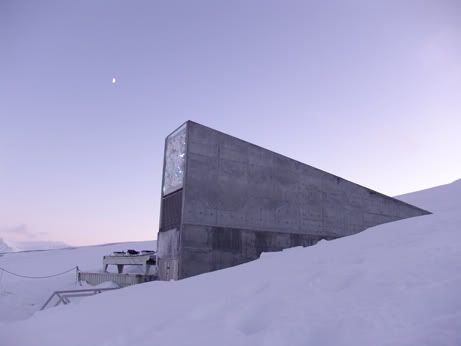 The Norwegian Arctic island of Svalbard will see no direct sunlight for at least another week, but the vault's opening today brightened the spirits of dozens of guests who gathered for its dedication ceremonies.

The "doomsday" vault is designed to keep millions of seed samples safe from natural and unnatural disasters: global warming, asteroid strikes, plant diseases, nuclear warfare, and even earthquakes—in fact, the structure absorbed a magnitude 6.2 quake here last week without a crack.

Though Norway owns the global seed bank—the first of its kind—other countries can store seeds in it and remove them as needed. The genes in the seeds may someday be needed to adapt crops to endure climate change, droughts, blights, and other potential catastrophes.

Here are more photos of the vault below.