I knew that the US dollar was in pretty bad shape against the British pound, but don't you think this is getting a little ridiculous.
"Burger King Launches World's Most Expensive Hamburger"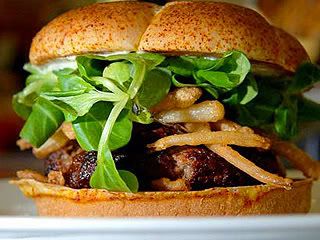 LONDON — It's known as the home of 'The Whopper' and Burger King is hoping its latest product really lives up to its reputation. The fast-food giant launched a $200 burger Wednesday — all in the name of charity.

Setting a new record, the world's most expensive burger is available at just one restaurant in West London, England, once a week — but it will eventually be available to order via a hotline.

The fine ingredients of what is called simply 'The Burger' include Wagyu beef, white truffles, Pata Negra ham slices, Cristal onion straws, Modena balsamic vinegar, lambs lettuce, pink Himalayan rock salt, organic white wine and shallot infused mayonnaise in an Iranian saffron and white truffle dusted bun.

Here's my question: if you were going to spend $200 on ANY item on a restaurant's menu - for benefit of charity or no - would you really want to do it in a BURGER KING?

I have to believe that the plastic seats and paper Burger King crowns might detract (slightly) from the ambience of you consuming one of the 'finest' meals you'll ever eat, no?