Designed to be the new "People's Car" in a similar vein to the original Volkswagen Beetle, the Nano, by Indian automaker Tata, has finally been officially unveiled. Based on the premise of simple, affordable, and safe transportation, the Tata Nano is expected to cost one lakh, or 100,000 rupees (approximately $2,500), in base level trim when it hits showrooms in its native India later this year.



And simple the Nano is. The two-cylinder engine is rear-mounted and has a capacity of just 634 cc -- enough to produce a meager 30 horsepower. It's a similar displacement and power rating to the popular Fiat 600 city car of the 1950s and 60s. The four-door Nano seats four people "comfortably" and is just over ten feet long (more than two feet shorter than the Honda Fit) and less than five feet wide -- perfect for negotiating those narrow New Delhi streets.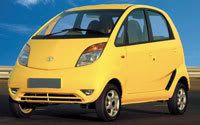 Two trim levels are available -- "Standard" and "Luxury" -- though the latter moniker is likely highly relative. The primary difference we see between the two models is the alloy wheels installed on the Luxury model (as opposed to steel items on the Standard version).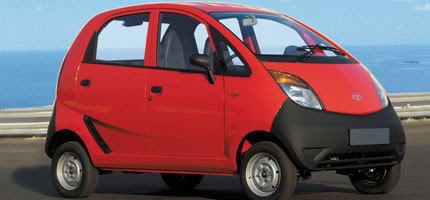 The Nano utilizes a CVT transmission and is expected to get up to 50 mpg. The vehicle has already passed all relevant Indian crash tests and emissions regulations, and is reported to be able to pass selected international crash tests. Tata says that the Nano also features exceptionally low emissions that rival even two-wheeled transportation in India.


Now Whos Wouldnt Buy This Baby For There Daughter